Wooded Trails Find and Compare
Discover a forest trail that is right for you.



Finding a forest hiking trail that meets your requirement of difficulty is now possible with the above tools. First through finding a trail in your desired location, then by using the trail compare app, you will see a visualization of your trail selections with a range of difficulty levels.
Difficulty levels were determined through an algorithm that weighed in trail attributes for trails in our National Forest System. Information such as the length, type, condition, firmness, and grade of each trail factored into the ranking decision. While other resources are available to give crowd-sourced information on difficulty of trails, this project aims to provide information based on data collected by the National Forest System and then analyzed by our tool.
There are over 40,000 forest trails included in the ranking system provided. Only 5% of all the trails fall within the "Difficult" and "Very Difficult" categories. The majority of the trails fall within the "Easy-Intermediate" range. Difficulty ranking is calculated based on a scale from one to twenty, with one being the easiest and 20 being the most difficult.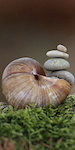 Challenge Rank: Easy (rank less than 8)
For those trails that fall within the "Easy" range with a rank of less than eight, 30% of the total forest trails are included. These trails typically have well-maintained and defined paths with recreational markings. Your walk will likely have few hills to climb and the surface of the trail will make your journey more comfortable on your feet. These trails may or may not be long walks, but they are typically shorter in length.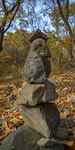 Challenge Rank: Easy-Intermediate (rank 8-10)
The "Easy-Intermediate" range is the most prolific trail found in the ranking system at 40% of all forest trails. With a rank between eight and ten, these trails are much like the "Easy" trails, but are expected to have slow, steady grades. Trails are still well-marked, defined and maintained. Your walking surface is close to ideal and great for longer day hikes.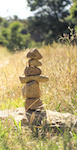 Challenge Rank: Intermediate (rank 11-14)
Twenty-five percent of all forest trails are considered to be within the "Intermediate" range. The rank of these trails nearly meets the mid-range of the scale, as they fall between eleven and fourteen. You can expect some areas of difficulty on your path mixed with longer stretches of easy walking. Hills can be steeper than in the earlier categories, but the trail paths are still relatively maintained and marked. Many of these trails are ideal for two-day trips, as they oftentimes go for greater lengths than the "Easy" and "Easy-Intermediate" trails.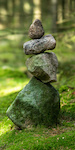 Challenge Rank: Intermediate-Difficult (rank 15-16)
Few of the forest trails are in the "Intermediate-Difficult" range at 3%. These trails may have conditions that make it difficult to stay on path without GPS service. Length of the trail is not necessarily a factor in the rank; however, the grade of the trail makes walking difficult for most beginner hikers. The trail surface can be treacherous and paths may need to be cleared in some areas.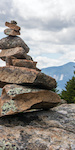 Challenge Rank: Difficult (rank 17-18)
"Difficult" trails make up only one percent of all forest trails in the ranking system. These trails are usually not maintained and are difficult to follow without very good orienteering skills. These trails can have large increases in grade as you walk, but may offer some of the most beautiful scenes as you reach the top. Some of these trails may need path-clearing as you hike along the way.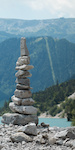 Challenge Rank: Very Difficult (rank 19 and above)
As in the "Difficult" category of trails, the "Very Difficult" make up very few trails in the entire system, at again, only one percent. These trails are much like the trails in the "Difficult" range, but may have the added obstacle of inclement weather and high elevations.